Il Piccolo Blog
Pergola, a space to make the most of for relaxation: a guide to materials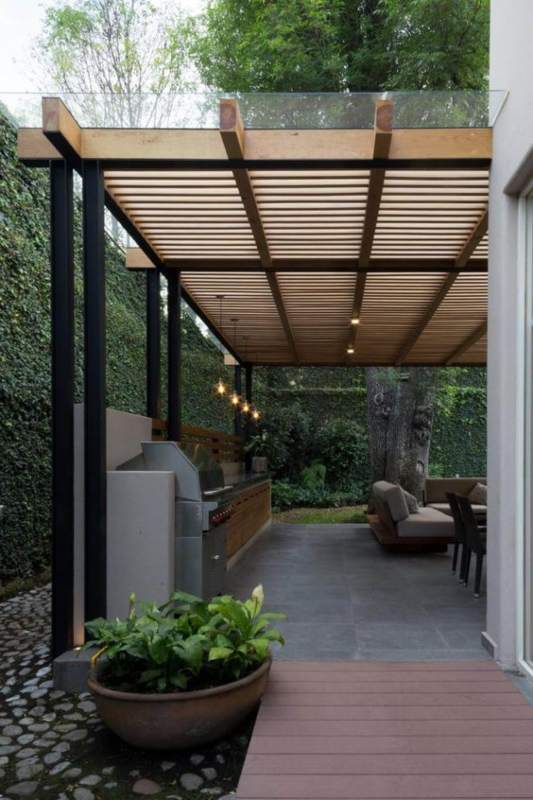 From pergola to gazebos, the structures to consider for outdoor spaces
Creating dynamic outdoor spaces, pleasant to look at, where one can spend time relaxing with family or friends, eating together or relaxing on a chaise longue with a good book, has become a must for those fortunate enough to have a garden, a courtyard, a terrace. The pergola is rightfully among the structures, along with gazebos, to be included to create exactly the elegant, original and relaxed ambience one envisages.
The definition of pergola, from gardening to furnishing
According to the dictionary definition, it is a structural and decorative element of a garden or vegetable garden, forming a shaded passageway shaped like a gallery and supported by pillars. Traditionally, it is characterised by a framework of transverse and longitudinal beams originally intended to support vegetation.
In the modern interior design world, it is instead understood as a structure intended to provide shade as well as possibly support plants. The concept of outdoor design over the years has changed somewhat and now pergolas are similar to gazebos, because they often have side enclosures, which can be sliding and therefore openable, perhaps glazing to give the impression of being totally outdoors.
The key words are coherence and harmony
How can you turn your pergola into a design element, making it unique and also standing out for the quality and originality of the furnishings? Start from the assumption that any type of furniture can be placed under it: a table with chairs, sofas. An original choice could be a swing or a hammock hanging from the structure itself. Like any indoor or outdoor element, there must be continuity and harmony between the materials, styles and colours of the supporting structure, the furniture and the indoor furniture.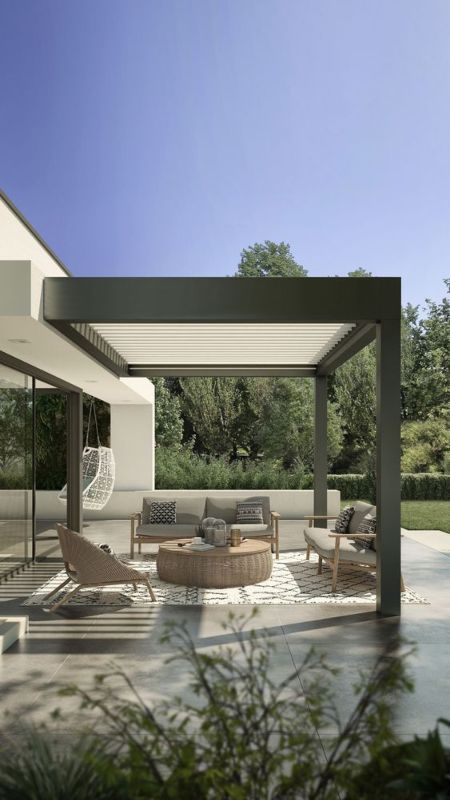 The main materials for pergolas and their furniture
A pergola can be constructed in various materials, above all wood, aluminium or iron. Clearly, since it is an outdoor element, aesthetics must be combined with the ability to withstand the elements without being ruined by sun, rain and passing time. The same reasoning must be made with furniture: the most popular materials are rattan, wicker, bamboo, wrought iron, aluminium, PVC.
In the classic style, pergola can be made of wrought iron, with intricate shapes and original, elaborate finishes, or of wood. If the structure is made of iron, you can choose chairs and tables made of the same material, with sinuous and careful lines, extremely original and with personality, as well as sofas. If, instead, you opt for wood, chairs and tables must also be of the same material, with bamboo, pine, teak, beech, chestnut.
In a modern context, on the other hand, the pergola itself has very simple and linear shapes, and the same must apply to the furniture, with essential lines, in aluminium, steel or wood, with possible glass inserts. For the lighting, for the classic, floor lamps are perfect, if you like them with a retro feel, for the modern, LED ceiling systems, with white or blue spotlights.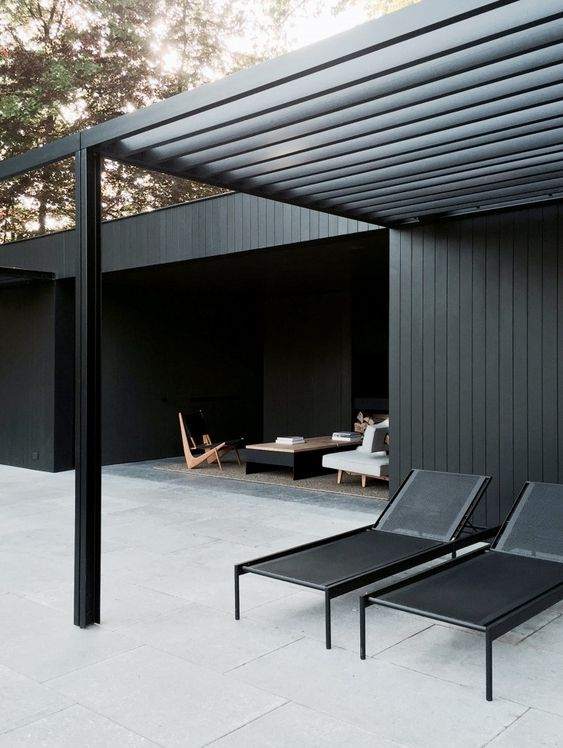 Details, colours and plants to make the difference in pergolas
It is necessary to take care of every detail in the furnishing of one's pergola, starting with any cushions, which can be monochrome or patterned, to give a cheerful touch. As far as colours are concerned, untreated wood brings a sense of warmth; in a modern environment, opt for black or grey, unless you want to go for extreme originality with bold, bright colours. Garden lovers can follow the old definition of pergolas, with vines or roses covering the walls and ceiling. It is less complex to add greenery with large plants in pots that follow the general style.
Need to furnish your home or a single room?
Choose a top-notch woodworking shop.

We have over 50 years of experience!
Contact us!
Il Piccolo, a second generation family business, opens its showroom in Lugano. With over 50 years of experience, Il Piccolo brings with it a wealth of technical and design knowledge of the highest level, thanks to the many interiors designed and furnished around the world. In addition, Il Piccolo represents many of the best international luxury furniture brands. We design, manufacture and sell the best in design. Also with regard to La Cornue kitchens, we follow the customer from the design to the realisation of the project, integrating the whole process with a precise and professional service.CONTACT US