Il Piccolo Blog
Energising and with great personality, a red kitchen is unique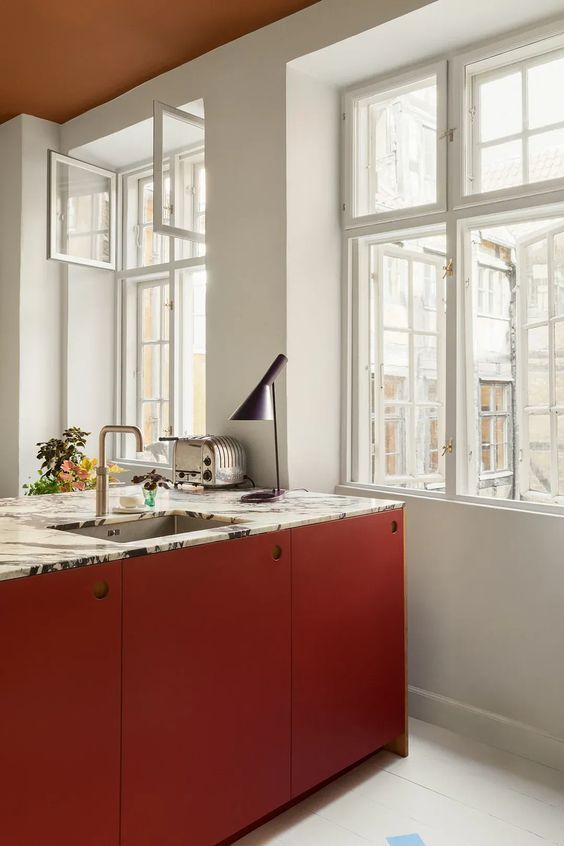 The search for originality rewards red
When furnishing one is often in search of originality, of a customised solution or in any case one that differs from the one chosen by others, in order to create an absolutely unique and almost inimitable environment. Stereotypical furnishings do not suit many people, who want their home to be remembered for its uniqueness. As well as opting for made-to-measure furniture that enhances every space to the last centimetre, or going for styles that give particular results – think, for example, of country kitchens that bring with them the tradition of the American countryside combined with modernity – one can choose details and colours that are out of the ordinary. A red kitchen falls into this category.
Beware, a red kitchen is not for everyone
It is a choice of great personality, which is not suitable for everyone. In fact, it is not enough to want originality, you need to be dynamic and absolutely convinced of your decision. A red kitchen brings with it a special aura of energy, which does not go with all characters and risks, if not supported by the right character, not fitting in with its occupant. If one is really sure, then a red kitchen becomes something truly unique and memorable.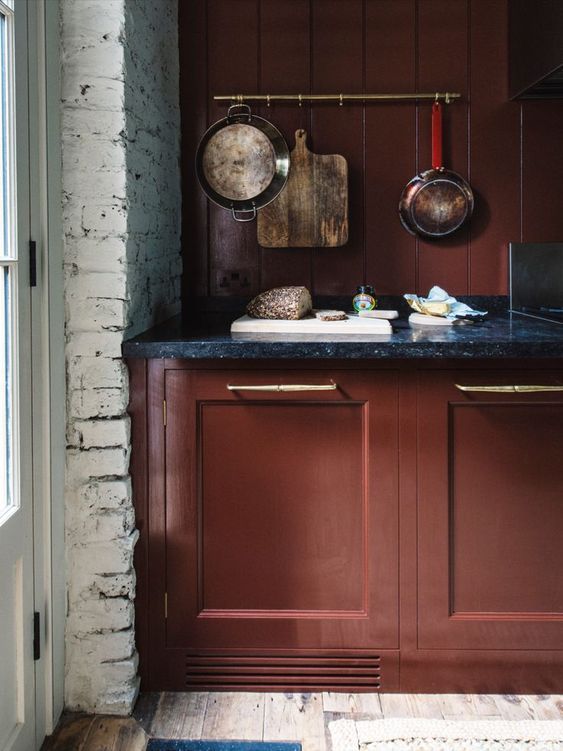 If once upon a time people opted, especially in the classic style, for kitchens that mostly used white tones or combined it with wood colour, now they dare more. Big brands such as La Cornue and Lacanche offer solutions that combine strong colours, from red to blue to green or even purple. In kitchens, it is advisable to focus on one or two colours, playing with one or two colours, not an overly broad palette.
The meaning of a red kitchen: energy and appetite
On the basis of what should one choose? First of all according to one's own taste, but it should be emphasised that every colour carries a meaning d. Red in the kitchen, like orange, serves to give a great energy and stimulate the appetite, unlike, for example, blue which gives a feeling of calm and quiet or green which is the colour of nature par excellence.
A red kitchen – a strong choice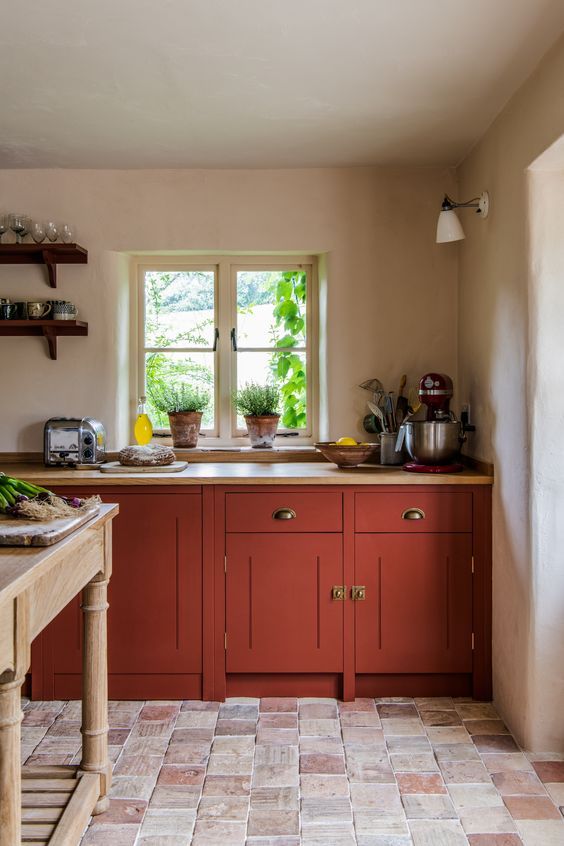 There is no doubt that this is a strong choice. Red is a strong, dominant, ringing, passionate colour. For your kitchen you can opt for a matt colour or, for something even more striking and with personality, for glossy. Just think how much energy you can derive from a red lacquered kitchen, glossy and able to reflect light, with smooth, essential surfaces in a contemporary style!
For a two-tone kitchen, white and wood go well with red
For those who want a red kitchen but fear it is something really excessive, you can go for a two-tone choice, putting red together with another colour to tone it down. Beware, however, that not just any colour will do. White goes very well with any other colour and also with red, and the combination highlights the differences and makes the atmosphere unique.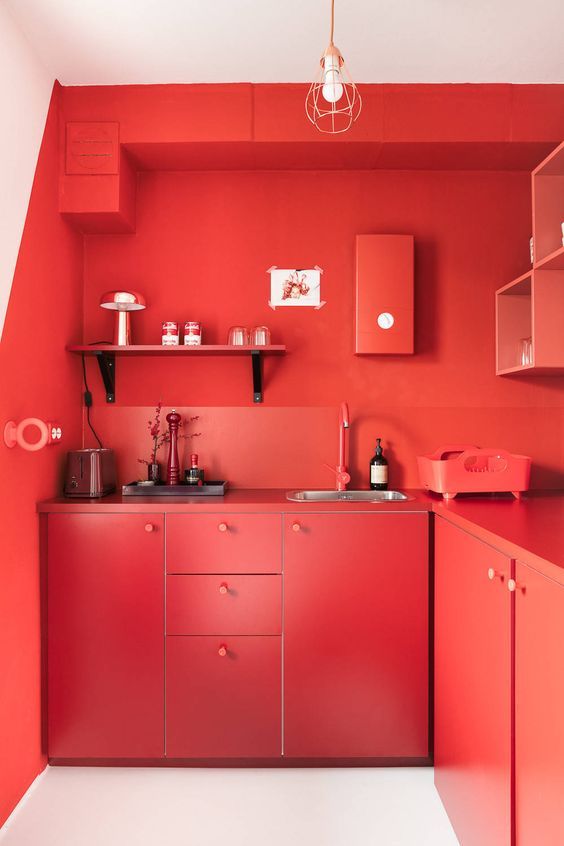 Another choice that softens and changes the atmosphere of a red kitchen is to combine it with wooden details in its natural colour. It should not be excessively dark and rich in ribbing and detail, otherwise the effect would be overdone. Instead, go for light, light-coloured woods, which bring extreme elegance with red.
Red kitchen with grey, a popular contemporary solution
Finally, a modern trend recommends combining red with grey, perhaps even daring a stone effect that is very refined.
If someone loves red but does not want to dare, they can choose it for details such as accessories, handles, drawers, hood, chairs and tables, putting the other furniture in wood, white or grey.
Need to furnish your home or a single room?
Choose a top-notch woodworking shop.

We have over 50 years of experience!
Contact us!
Il Piccolo, a second generation family business, opens its showroom in Lugano. With over 50 years of experience, Il Piccolo brings with it a wealth of technical and design knowledge of the highest level, thanks to the many interiors designed and furnished around the world. In addition, Il Piccolo represents many of the best international luxury furniture brands. We design, manufacture and sell the best in design. Also with regard to La Cornue kitchens, we follow the customer from the design to the realisation of the project, integrating the whole process with a precise and professional service.CONTACT US