Il Piccolo Blog
Attractive design and comfort, why swinging chairs  are increasingly popular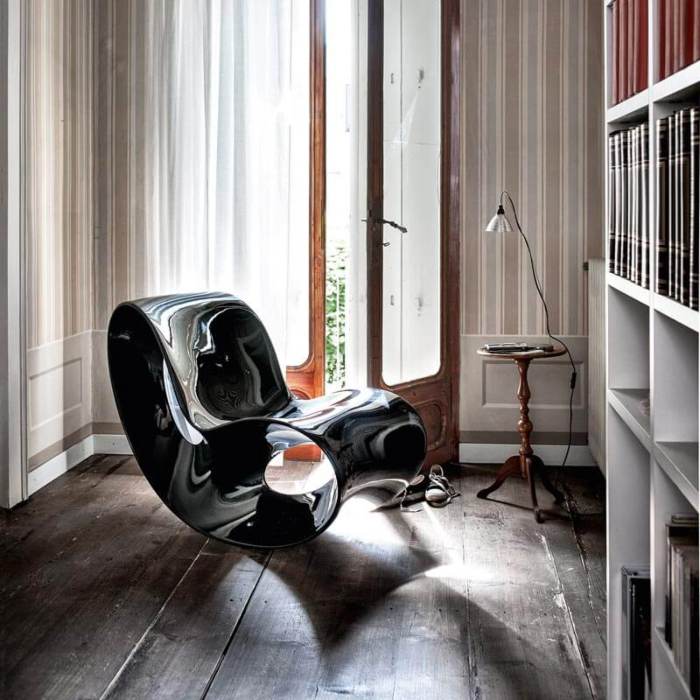 Appearance combined with practicality, one of the secrets of the rocking chair
In the world of furniture, one of the prerogatives, especially in recent years (this was not always the case in the classic, think of furniture that can still be seen in stately homes of the times that are aesthetic but appear extremely uncomfortable), is to combine appearance and thus beauty with functionality.
People often look for furniture and accessories that are original and can give a unique touch to rooms but at the same time have multiple functions and are comfortable. One example, which comes from tradition but is becoming increasingly popular in modern interior design, is swinging chairs .
What are swinging chairs ?
They are a type of chair that is characterised by having a seat that is only supported at the front and not at the back. While a classic chair, as it is usually understood, has four legs, or in more modern concepts even fewer, but always so as to provide a stable and constant support for the seat, in the case of a rocking chair the part where one sits is floating.
It therefore has no so-called back legs. The frame has a sled-shaped support. On the surface this might seem unsafe because it seems easy to tip over, but swinging chairs  are designed so that the weight of the person sitting on them is distributed both on the frame itself and on the lower rails, the sliding of which prevents tipping over. They are therefore also considered suitable for children who like to rock.
It is a piece of furniture that finds its origins in the one invented, if you can call it that, in 1926 by the Dutch architect and designer Mart Stam. That chair had a tubular frame instead of rear legs. From this came the much-loved swinging chairs , used in particular in verandas, porches and outdoors, and a whole series of chairs referred to as swinging chairs .
When it is the seat that fits the body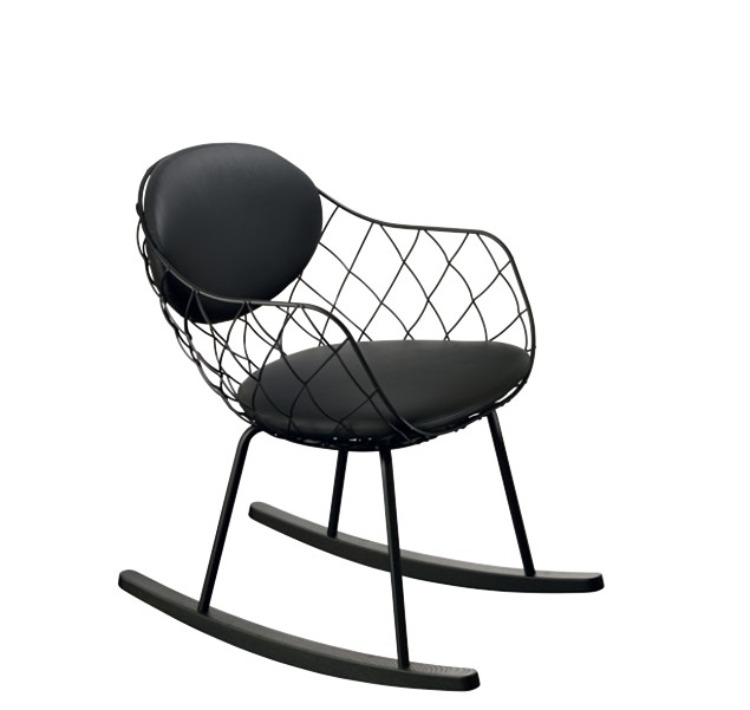 The characteristics of swinging chairs  combine, and this is why they are so popular, design and comfort. From a practical point of view, the rocking movement adapts to that of the body, thus making the person sitting there feel extremely comfortable and not constrained by the rigid shapes of the seat. It is not the only piece of furniture that tries to follow the shape of the body instead of imposing a predetermined one, think for example of the bean bag chairs, invented by Zanotta and now taken up by all brands: it is a different form of comfort that is very popular.
The seat is not rigid and is also considered ideal by those who sit in it for a long time. People often complain of back pain after sitting in a chair for a long time; this one clearly reduces the problem, which is why it is popular not only in residential settings but also in offices.
Swinging chairs go well in any room. In the living room they go with a sofa
At the same time, the shape resulting from not having upper legs means that the rocking chair takes on an extremely particular and unusual design, which fits well into a modern context where essentiality and originality are sought after. Many models of swinging chairs are found on the market, so that they are suitable for all rooms, from living rooms, where they are enhanced if combined with a comfortable sofa, to kitchens.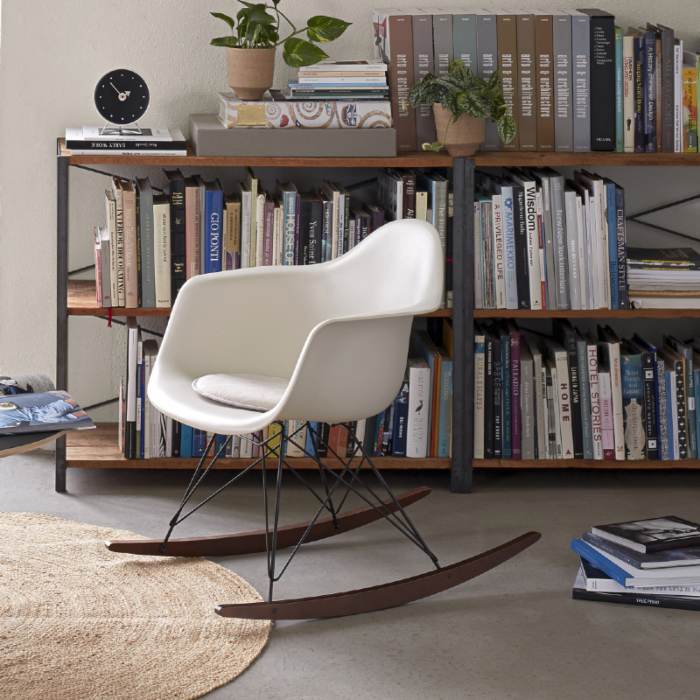 Materials and colours of swinging chairs , from structure to padding
Usually the structure is created in steel or steel, while the materials of the seat vary, from fabric to leather, with different padding according to taste. Like classic chairs and armchairs, there are many variations: with or without armrests, for example, with a higher or lower backrest, to suit different contexts. They can bring a touch of modernity to different interior designs.
One can of course play with colours, to make swinging chairs the protagonists of the room or camouflage them and make them discreet. The frame may or may not have the same colour as the seat and backrest.
Need to furnish your home or a single room?
Choose a top-notch woodworking shop.

We have over 50 years of experience!
Contact us!
Il Piccolo, a second generation family business, opens its showroom in Lugano. With over 50 years of experience, Il Piccolo brings with it a wealth of technical and design knowledge of the highest level, thanks to the many interiors designed and furnished around the world. In addition, Il Piccolo represents many of the best international luxury furniture brands. We design, manufacture and sell the best in design. Also with regard to La Cornue kitchens, we follow the customer from the design to the realisation of the project, integrating the whole process with a precise and professional service.CONTACT US